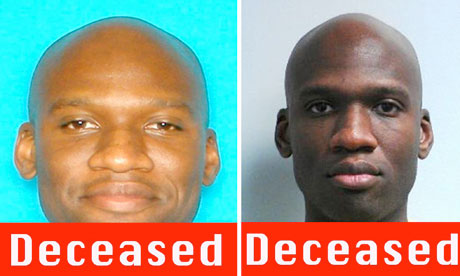 Images released by the FBI show photos of Aaron Alexis, who police believe was a gunman at the Washington Navy Yard shooting. Photograph: AP
The man responsible for Monday's deadly rampage at the Washington navy yard was a subcontractor and former reservist who was arrested at least twice in the past for gun-related offences.
Aaron Alexis, 34, was discharged from the navy in 2011 after an incident in which an upstairs neighbour complained that he had shot into the floor of her apartment.
But Alexis restored his connections with the navy when a professional services company subcontracted by
Hewlett-Packard
employed him on a navy IT project. His ID badge gained him access to the navy yard base on Monday, the FBI said.
According to the US navy, Alexis, whose home was listed as New York City, enrolled in the reserves in 2007. He was a navy aviation electrician's mate third class from 1 February 2008 until he was discharged on 31 January 2011. He is listed as having received the national defense service medal and the global war on terrorism service medal.
In 2010, while he was based at Fort Worth in Texas, he was arrested after discharging a firearm. In 2004, police in
Seattle
questioned him after what they described as an "anger-fuelled shooting" involving the car of a construction worker.
Seattle police said on Monday that during their inquiries into the 2004 incident, Alexis's father reported that he suffered from "anger management problems associated with PTSD, and that Alexis had been an active participant in rescue attempts on September 11, 2001".